Directors & Contributors
Counts Family Reunion Board & Contributors
DAVINE MILLER, was nominated President of the Counts Family Reunion at the August 2017 reunion when PATTY DYE CONNER stepped down. Davine, has faithfully served as the Vice-President for years and has managed to bring most of her family to attend the reunions, including her precious mother, MAXINE, who passed away only months after the 2017 reunion. She will be sorely missed.
WILLIAM BRICE COUNTS, stepped into the vacated seat of Vice President beginning in August 2017. Bill, thrives on genealogy on both sides of his family. If you have a question, he's the one to ask. He will be heading up a genealogy group to assist others in their research efforts.
GAIL MARNEY, has served as the Secretary/Treasurer/Webmaster of the Counts Family Reunion since 2004. Gail, is also a wife, mom, grandmother and teacher who enjoys gardening and keeping up the Sutherland Cemetery in Tiny, Virginia. She lives with her family at the top of the mountain, on top of her grandfather's farm.
PHYLLIS COUNTS, steps into the role of Webmaster of the Counts Family Reunion website, following the 2017 reunion.
RACHEL PELLONI, steps into the role as Official Photographer for the Counts Family Reunion and will assume her responsibilities beginning at the 2018 reunion.
The Ancestor List
ARE WE RELATED? Is your great-grandfather our mother's cousin's grandma's nephew once removed? There's only one way to find out . . . . In this list, which IS NOT ALL INCLUSIVE, names are indexed by surname:
Amburgey, Anderson, Arrington, Artrip, Bowman, Breeding, Bumgarner, Cantrell, Childress, Colley, Combs, Compton, Counts,
Deel, Dingus, Dye, Dye, Edwards, Fields, Fleming, Fuller, Green, Grizzle/Grizzel, Hay, Jessee, Johnson, Jones, Kelly, Kiser, Long,
McReynolds, Mullins, Musick, Owens, Powers, Pressley, Rasnick/Rasnake, Ratliff, Robinson, Selfe, Skeen, Smith, Stanley, Sutherland, Sykes,
Taylor, Turner, Viers, Wright, and Yates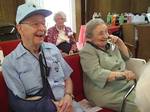 About the Family Roots
Follow us on Facebook:
JOHN COUNTS OF GLADE HOLLOW
E-mail
Web Site